www.U-35.com
The Homepage for U-35, a Type VII U-Boat
... 1936 - 1939 ...






SM U-35 Watch Officer Erwin de Terra

Erwin de Terra was born on 4 June 1892 and entered the Kaiserliche Marine in April 1912 (Crew 1912). He served on board SM U-35 and SM U-139 as watch officer.

U-35 at commissioning on 03 November 1936. [78] Karlgeorg Schuster, Hans Fechter, Erwin de Terra, Klaus Ewerth, Otto Kretschmer, Kurt Schmidt, Anton Thimm, Walter Arnaschus and Willi Ensuleit are recognizable.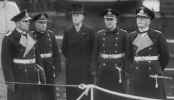 At the commissioning, former crewmembers of SM U-35 were invited as honorary guests and probably taken on a short patrol. This detail of a larger photo includes the honorary guests; from left: Hans Fechter, Wilhelm Johannsen, unknown civilian, Erwin de Terra, and Karlgeorg Schuster.
Erwin de Terra passed away on 28 October 1961.
Seeking any additional information and pictures related to U-35
2018-10-18
URL: HTTP://WWW.U-35.COM
© 1999-2021

(relative of U-35 Chief Engineer Gerhard Stamer)