www.U-35.com
The Homepage for U-35, a Type VII U-Boat
... 1936 - 1939 ...
U-35 crewmember Josef Gebhardt
Josef Gebhardt was born on 10 January 1913 in Neudorf (now Martinsthal).
He enlisted in the Reichsmarine on 1 July 1933 and served on board U-35 during 1937-1939.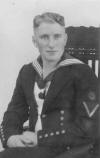 Josef Gebhardt
He is recognizable in this photo:
He was later transferred to U-65 and was killed on 28 April 1941.
Thanks to Norbert Michel, Heimatarchiv Walluf.
Seeking any additional information and pictures related to U-35
2018-10-18
URL: HTTP://WWW.U-35.COM
© 1999-2021

(relative of U-35 Chief Engineer Gerhard Stamer)