www.U-35.com
The Homepage for U 35, a Type VII U-Boat
... 1936 - 1939 ...






SM U 35 Chief Engineer Hans Fechter

Hans Fechter was born on 26 May 1885 in Elbing.

U 35 at commissioning on 03 November 1936. Hans Fechter is the admiral on deck, farthest to the left. [78] Karlgeorg Schuster, Erwin de Terra, Klaus Ewerth, Otto Kretschmer, Kurt Schmidt, Anton Thimm, Walter Arnaschus and Willi Ensuleit are also recognizable.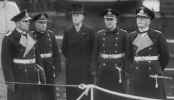 At the commissioning, former crewmembers of SM U 35 were invited as honorary guests and probably taken on a short patrol. This detail of a larger photo includes the honorary guests; from left: Hans Fechter, Wilhelm Johannsen, Otto Launburg, Erwin de Terra, Karlgeorg Schuster.

The following data are from a defunct geocities account (~orion47/WEHRMACHT/KRIEGSMARINE/Admirals/FECHTER_HANS.html)

He entered the Kaiserliche Marine in October 1905 (Crew 1905). He was Marineingenieuranwärter with the II. Shipyard-Division (01 Oct 1905-31 Mar 1906)

Marineingenieuroberanwärter (01 Apr 1906); on Board the Liner Kaiser Wilhelm der Grosse (01 Apr 1906-15 Oct 1906)

Marineingenieurapplikant (01 Oct 1906); on Board S 122 of the 7th Torpedo-Boat-Half-Flotilla (16 Oct 1906-15 Dec 1906); attended Torpedo-Course (16 Dec 1906-25 Mar 1907); on Board G 134 of the 5th Torpedo-Boat-Half-Flotilla (26 Mar 1907-03 Apr 1907); courses on Board the Liner Kaiser Barbarossa (04 Apr 1907-13 Aug 1908)

Marineingenieuroberapplikant (01 Oct 1908); Engineer and Deck Officer School (14 Aug 1908-12 Sep 1909)

Marineingenieuraspirant (01 Oct 1909);

transferred to the I. Torpedo-Battalion (13 Sep 1909-09 Sep 1910) At the same time, Engineer-Aspirant on Board the Torpedo-Boat 'G 170' (13 Sep 1909-20 Dec 1909) At the same time, Engineer-Aspirant on Board the Torpedo-Boat 'G 170' (04 Jan 1910-09 Sep 1910); on Board the Liner 'Pommern' (10 Sep 1910-30 Sep 1912)

Marineingenieuroberaspirant (01 Oct 1912); Engineer and Deck Officer School (01 Oct 1912-30 Sep 1913) Training with the I.

Marineingenieur (30 Oct 1913); Shipyard-Division and Submarine-School (01 Oct 1913-01 Aug 1914) On Board the Liner 'Wittelsbach' (02 Aug 1914-16 Aug 1914); Placed to the Disposal of the Inspection of Submarine Affairs, Ships-Cadre of 'U-35' (17 Aug 1914-02 Nov 1914)

Awarded 1914 Eisernes Kreuz 1. Klasse, 1914 Eisernes Kreuz 2. Klasse, and Ehrenkreuz für Frontkämpfer

Marineoberingenieur (17 Oct 1915); Chief Engineer on the Submarine 'U-35' (03 Nov 1914-18 Jan 1917); Construction-Indoctrination 'U 139' and 'U 107' (19 Jan 1917-17 Aug 1917) Chief Engineer on the Submarine 'U 107' (18 Aug 1917-19 Sep 1917) Construction-Indoctrination of 'U 139' (20 Sep 1917-17 May 1918) Chief Engineer on the Submarine 'U 139' (18 May 1918-24 Nov 1918)

In 1918, he published the book In der Alarmkoje von U-35

Placed to the Disposal of the Inspection of Submarine Affairs and Granted Leave (25 Nov 1918-00 May 1919) Detached to the Technical College in Berlin (00 May 1919-18 Sep 1921)

Kapitänleutnant (Ing.) (01 Apr 1921); Advisor in the Naval-Defence-Department, Naval Command (19 Sep 1921-30 Jun 1922) Advisor in the Fleet Department, Naval Command (01 Jul 1922-14 Feb 1925) Granted Leave to be Transferred for Service as Chief-Engineer on the US-Yacht 'Vanadis' (15 Jan 1924-00 Jun 1924) Construction-Indoctrination 'Emden' at the Shipyard Wilhelmshaven (15 Feb 1925-14 Oct 1925)

Korvettenkapitän (Ing.) (01 May 1925); Chief Engineer on the Cruiser 'Emden' (15 Oct 1925-20 Jul 1928) Placed to the Disposal of the Chief of the Naval-Station of the North Sea (21 Jul 1928-30 Sep 1928)

Fregattenkapitän (Ing.) (01 Oct 1929); Auxiliary-Advisor with the Command of the Naval-Station of the North Sea (01 Oct 1928-18 Jun 1931); at the same time, Member of the Test-Commission for Ships (10 Mar 1929-30 Sep 1931); at the same time, Acting-Chairman of the Test-Commission for Ships (02 Aug 1930-26 Aug 1930)

Kapitän zur See (Ing.) (01 Jun 1931); Station-Engineer with the Command of the Naval-Station of the North Sea (19 Jun 1931-28 Sep 1933) Fleet-Engineer, Fleet Command (30 Sep 1933-30 Sep 1935)

Konteradmiral (Ing.) (01 Oct 1935); Ship-Machine-Inspector (01 Oct 1935-31 Dec 1939)

Hans Fechter was promoted to Vizeadmiral (Ing.) (01 Nov 1937); Retired as Charakter als Admiral (Ing.) (31 Dec 1939)

Placed to the Disposal of the Kriegsmarine without being Mobilized (01 Jan 1940)

Hans Fechter passed away on 04 July 1955 in Berlin.


Seeking any additional information and pictures related to U 35

URL: HTTP://WWW.U-35.COM

© 1999-2023



(relative of U 35 Chief Engineer Gerhard Stamer)