www.U-35.com
The Homepage for U-35, a Type VII U-Boat
... 1936 - 1939 ...
U-35 Obersteuermann Walter Arnaschus
Walter Arnaschus was born on 22 October 1909 in Düsseldorf. He enlisted in the Reichsmarine on 01 April 1928, entered U-Boat training on 30 June 1936, and reported to U-35 under construction on 19 October 1936. He was Obersteuermann of U-35 at its commissioning on 03 November 1936, but served temporarily as Obersteuermann of U-30 between 06 December 1936 and 26 February 1937. Between 27 February 1937 and 27 February 1939, he served as Obersteuermann of U-35.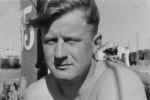 Walter Arnschus in Spain in about 1938.

U-35 at commissioning on 03 November 1936. From the left, Walter Arnaschus is the second man without a white belt. [78] Hans Fechter, Erwin de Terra, Karlgeorg Schuster, Klaus Ewerth, Otto Kretschmer, Willi Ensuleit, Anton Thimm and Kurt Schmidt are also recognizable.

The crew of U-35 on about 05 December 1936. Walter Arnaschus is in the bottom row, far left. [78]

The crew of U-35, including Walter Arnaschus, in September 1937 in Kiel. [90]

U-35 underway during the Spanish Civil War.
The national colors of black, white and red are painted the full height
of the front of the conning tower for easier identification;
the superimposed national badge is presumably gold or yellow picked out with black.
The seamen seem to wear the four-button single-breasted jacket
of the pre-war brown working denims,
with leather trowsers and dark blue fall-collar sweaters;
and note that the flat seaman's cap is still worn by all ratings. [8]
In front: Walter Arnaschus, Erich May, and Ernst Wensorra [33]

U-35 was featured on LIFE Magazine on 16 October 1939. Upper left is Obersteuermann Walter Arnaschus; right is Erich Rosemann.
"LIFE'S COVER: The German submarine U-35, shown on the cover, distinguished itself last week by bagging a Greek steamer and bringing the survivors to the Irish shore. It is a 500-tonner built three years ago at Krupp's Germania yards at Kiel and flies the Nazi war flag with a red field. It is painted gray on the sides to blend with the sky and black on top to blend with the water when submerged. The rows of round holes are the intakes for induction valve. You are looking forward from about midships."
<![if !vml]>

<![endif]>U-35 on New Year's Day, 1939, in Spain (probably El Ferrol) during the Spanish Civil War. On the dock: Gottlob Wilhelm Fischer, unknown, Walter Arnaschus, Johannes Martin. On board U-35: Theodor Schütt, unknown, Ernst Wensorra, Peter Schwarz, Johann van der Pütten, Paul Fichte, Helmut Parthum, Erich Herrmann. [47]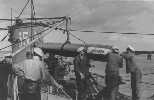 Here a training torpedo with the flotilla name "Saltzwedel" is being loaded onto U-35. On the left: Obersteuermann Walter Arnaschus. [8]

Walter Arnaschus later served as Obersteuermann of U-A between 22 September 1939 and 29 April 1942 (awarded the Iron Cross First Class on 29 April 1942), and U-504 as of 27 December 1942. His last day of service on U-504 was 21 July 1943, shortly before it was sunk with all 53 hands lost on 30 July 1943. He was promoted to the officer ranks and became First Watch Officer of the torpedo boat T-156 of the 24th U-Flotilla between 22 July 1943 and 19 October 1943. On 20 October 1943, he was given command of the torpedo boat TF-20, which served in the 23rd U-Flotilla and 26th U-Flotilla. He was active in the mine clearing service until released on 16 June 1947.

Walter Arnaschus passed away on 03 December 1979, and is survived by his daughter Gisela.




Seeking any additional information and pictures related to U-35


URL: HTTP://WWW.U-35.COM
© 1999-2021

(relative of U-35 Chief Engineer Gerhard Stamer)